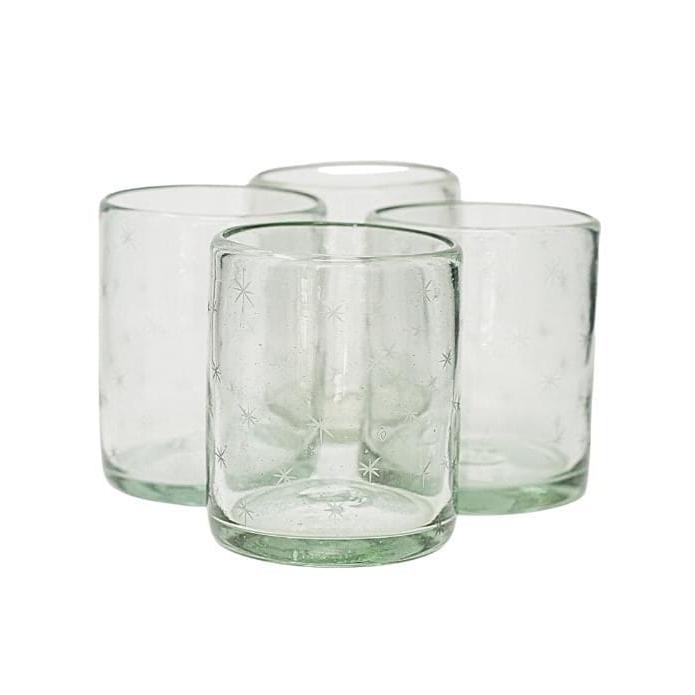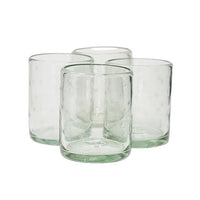 Starry Night Rocks Glass, Set of 4
Color: Clear | Etching: Stars
The MVP of cocktails, our rocks glass is ideal for cocktails, mocktails, and iced coffee. Made with our hand-blown, recycled glass, our "starry" etch is the perfect detail. Sold in sets of 4.
Please note that as unique, handmade pieces, no two are ever exactly the same and size and etchings can vary slightly. Our website photos are a close representation, but may not be identical to the piece you receive.
These glasses were hand-etched and mouth-blown by artists in San Miguel de Allende, Mexico. The mouth-blowing technique is one that was brought to Mexico in the 1500s by Spanish settlers. Your purchase helps to support the preservation of heritage crafts.
Dishwasher safe.

Measures 3" x 4"
The perfect juxtaposition - the weight of our glasses and the intricate detail of our stars. Since these glasses are made with recycled glass, our clear glasses take on a very faint but lovely, greenish hue. We love that unique detail and love supporting partners who are environmentally-minded.